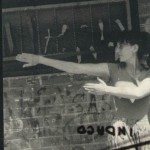 Born on 1962 in Acicastello (Catania) and is student at the Master Soundstudies (UDK), Berlin.
She works with Sounds and Installations in Germany and Italy.
After the studies at the Accademia di Belle Arti in Catania and in Paris with Alfred Tomatis , in Milan at the Centre of Hearing, she studied the connections between sounds and drawings, colours and frequencies, gestalt of the paintings under frequencies influence.
She organized two Installations Projects on the Volcan Aetna "Tracce-Spuren" and "Etna Feuer und Steine" .
Works at many projects with the Kunsthalle Hamburg about exchange between  German and Italian artistic territories.
She took parts  at  many projects with Alvin Current, Stefano Zorzanello, Progetto Isole, Cesare Pietroiusti and Emilio Fantin, Sam Auinger.
By now she is still working an the Installations/Performance "Grammophon" for 20 Glasdisks and four Grammophons, and she tooks part an the Transmediale 2012 and 100 Grad Festival (Berlin).
____________________________________________________________________________________
Emilia Badalà is part of the following module of Berlin Sonic Places:
modul I | 30. June 2012