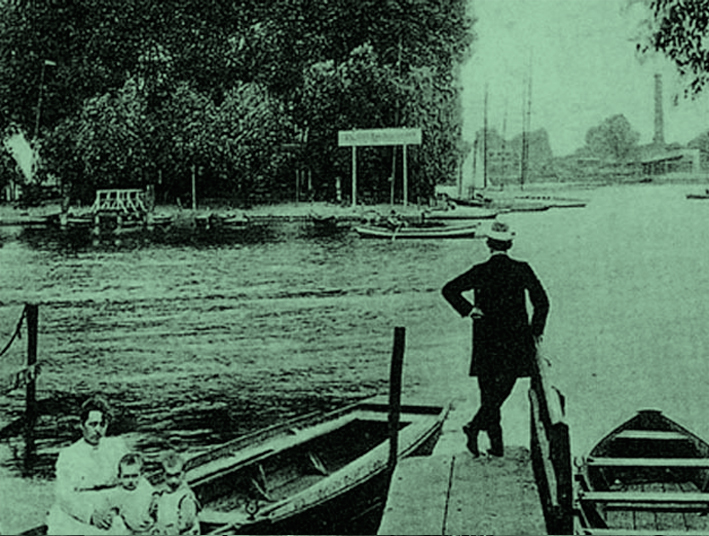 14. July 2012
Sonic Space Rummelsburg
Funkhaus Nalepastraße
Water City – the redesign of former industrial areas beside the Rummelsburger Bucht
Spaces resources for new development are often limited. However in the past two decades the unique circumstances of Berlin's history have provided ideal situations for planning test cases and new cultural directions. But what happens when those transformation processes settle back into 'normality'? This will be examined from an acoustic perspective in the Rummelsburger Bucht and Stralau peninsular area.
Rummelsburg has transformed in the last decade. A residential area and community is now growing on the former industrial/prison area beside the Rummelsburger See.
Today the Rummelsburg soundscape is unusually varied for a city area. Wildlife zones and the river create sonic variety, while aspects of the housing design blocks noise from busy roads nearby. It is a pleasant place to be. Community sounds have space to be heard. The rest of Berlin is clearly audible, but distant.
The discussion and research themes for Berlin Sonic Spaces, Rummelsburg will focuss on the idea of sound diversity, on the different methodologies for understanding soundscapes and on the surprising aural potential of gardens and plants. The presentations will include interactive sound maps and sonic representations of city infrastructures that have an impact on the area. The day also offers a guided soundwalk in Rummelsburg to listen to the sounds there.
____________________________________________________________________________________
Methodologies of acoustic city research
Rummelsburg 
Sound Walk
Rummelsburg with Peter Cusack, Valeria Merlini, as well as Eva Kietzmann and Petra Kübert
Installation
Berlin Favourite Sounds Peter Cusack
Video
Berlin Resonance: Symphony of a Metropolis
Studio Urban Resonance Valeria Merlini / Olaf Schäfer
Lectures and presentations
Soundscape Rummelsburg Peter Cusack Berlin/London [sound artist]
Soniferous Gardens and Soundscapes for Waterfronts in Japan  Prof. Keiko Torigoe Tokyo [musicologist]
Stadtklang  Andres Bosshard Zurich [sound artist and sound researcher]
Panel discussion
Peter Cusack Berlin/London [sound artist]
Prof. Keiko Torigoe Tokyo [musicologist]
Andres Bosshard Zurich [sound artist and sound researcher]
Kozo Hiramatzu [Director of the London Office of Japan Society for the Promotion of Science. Member of Japanese Association for Sound Ecology and Soundscape Association of Japan]
Tobias Trommer Berlin [musician, Network for Initatives around Ostkreuz]
Moderation: Yukio King Berlin [city planner, berlincast.com]
Loudspeaker Performance
Soundscape from Rummelsburg  Peter Cusack / Valeria Merlini
Ringspiel Sam Auinger
Assistance: Thomas Koch
With support of Electronic Studio of TU Berlin, department Audiocommunication